13. - 14. October 2023
22.00 – 4.00
8 € ; Tickets sales at the venue
Ingver in Gverilke, The Klittens, Krista Papista
Ingver in Gverilke
Ingver in Gverilke are Mojca Marija Frida, Enja Rojenica, Eva Boke Ziblje and guests.
A righteous child is sitting on hot air, swinging.
A band following the paths of Unfairness.
The band finds inspiration in education systems, corrective and safety measures and folk customs, and gives a chance to self-organisation.
They play accordion, musical saw and tambourine, but their instrument of choice is the voice, ranging from polyphony to improvisation. Their influences include the Etno histeria orchestra and choir, folk songs from the Balkans, cheering, folk urban songs inspired by the quarantine, Damir Avdić and the club scene from Sežana to Ljubljana. 
Their voice tuner is an out-of-tune accordion.
The Klittens
With their first EP Citrus, The Klittens captured the full scope of their musical exploration, from sweet to sour. The EP was very well received internationally and led to a tour of the Netherlands, Germany and the UK, where they were also able to play at venues such as EKKO, Merleyn, Paradiso and Paard. 
This spring they performed their "End of Citrus Tour," to promote Citrus. Not only did they tour Europe and the UK: they were asked to join Japanese punk band Otoboke Beaver for their Europe shows in May 2023. The band is also busy writing new material to be released in this autumn. For this, they have continuing their relationship with producer Remko Schouten (Stephen Malkmus, Claw Boys Claw) at IJland Studio.
The Klittens are: 
Lead vocals - Yaël Dekker
Lead guitar - Winnie Conradi
Rhythm guitar - Katja Kahana
Bass guitar - Michelle Geraerts
Drums - Laurie Zantinge
Facebook; Instagram; Bandcamp; Youtube.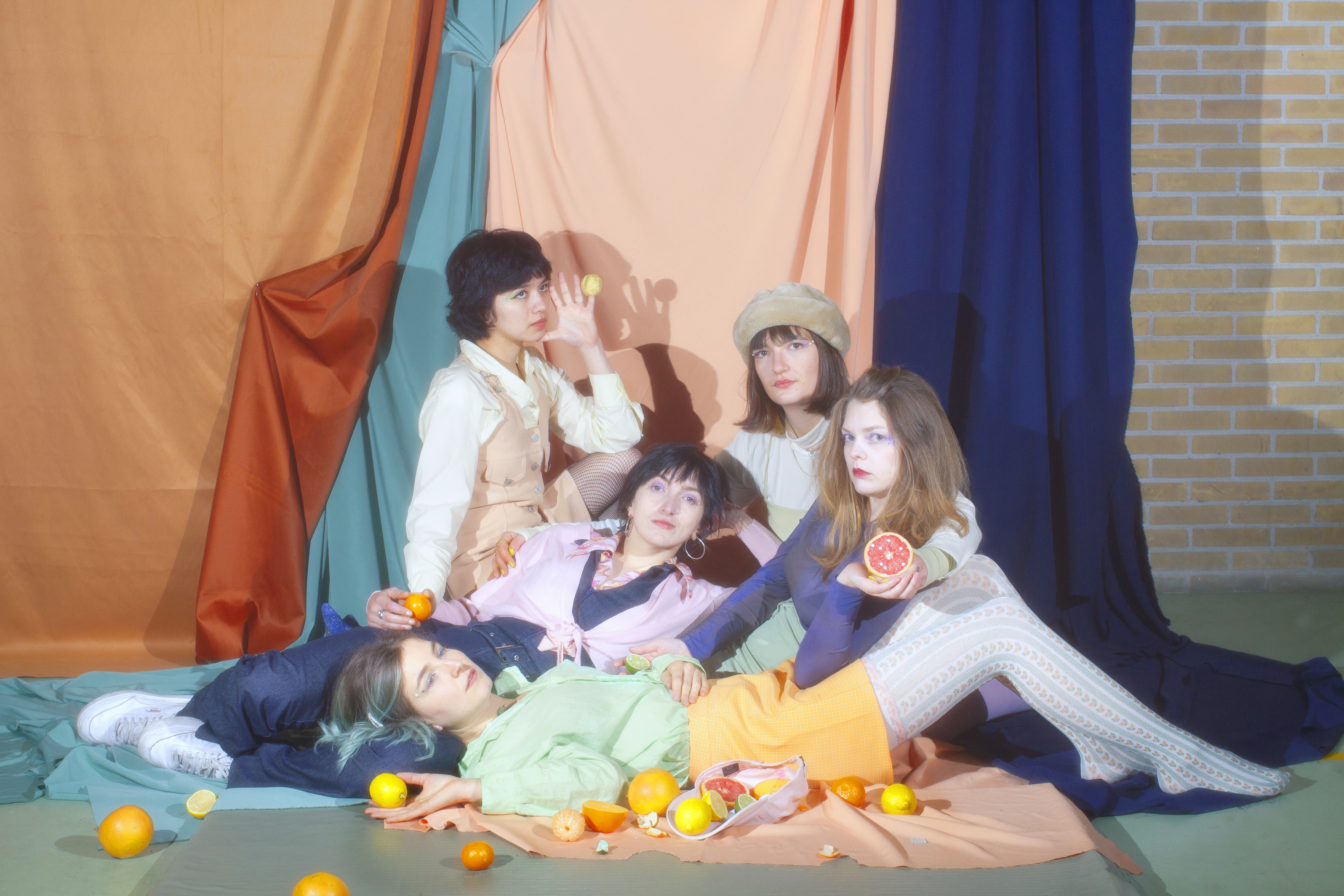 Krista Papista
"Fucklore: Bellringers" is an ongoing music performance by Cypriot Berlin-based artist, music producer and performer Krista Papista. It attempts to resuscitate the myth of the "bellringers'' ritual practiced by sorceress peasant women in Cyprus & the Aegean Islands. Wearing the bells of their lost sheep, they run around the mountain villages during the Carnival days which represent the release of the dark winter spirits to welcome the Spring renaissance. Wherever the custom has been lost, the transmission was performed verbally and through drawings. Papista's performance is constructed as a shit-show attempting to re-stage this tradition as a fragment of her latest album "Fucklore " which has just been released on Vinyl.
Facebook; Bandcamp; Instagram; Youtube.